Cloud-based tools like Microsoft Teams have truly revolutionized modern office life: a few clicks is all it takes to share the latest memo or presentation with everyone on your team. But what if you end up looking for that same document a month down the line? Or end up needing that spreadsheet half a year later? Where can I find shared files in Microsoft Teams?
Microsoft Teams: Where Can I See Shared Files?
To ensure a smooth and user-friendly experience, Microsoft 365 apps like Teams, SharePoint and OneDrive are deeply interconnected both with one another and with Windows on the whole. The downside of this approach is that MS 365 frequently offers multiple ways to achieve the same result, which can be quite confusing for the average user.
For instance, to find files shared over Teams, there are (at least) three options:
Checking the Files tab directly in Teams

Checking Office.com or SharePoint Online
Note: MS Teams differentiates between files that have been shared publicly in a team tab (SharePoint) or shared privately via direct message in a one-on-one or group chat (OneDrive). You can learn more about the technical background for this distinction in our SharePoint vs. OneDrive comparison.
Find Shared Files: Directly In Teams
The quickest way to find a shared file is to check the Files tab in Teams. This tab actually exists in various versions throughout the app: within each team, chat and meeting you are part of, as well as a collective overview on the left side of the screen.
As a result, finding a file in Teams requires selecting the right tab, depending on whether it was shared in a team or in a private chat. While a grouped list of all shared files exists, in busy organizations, this list might only cover a limited time frame. As a slightly more helpful option, the sub-menu Downloads allows you to check all files you have previously downloaded from Teams.
If you remember the name or other details of the missing document, the search bar can help you find the file in a pinch.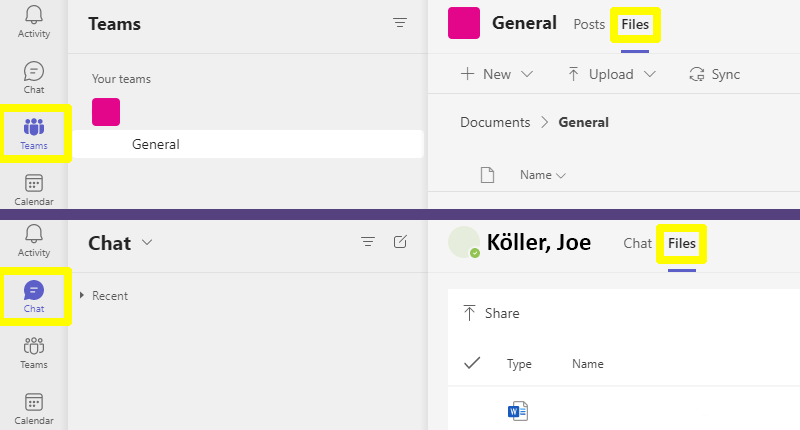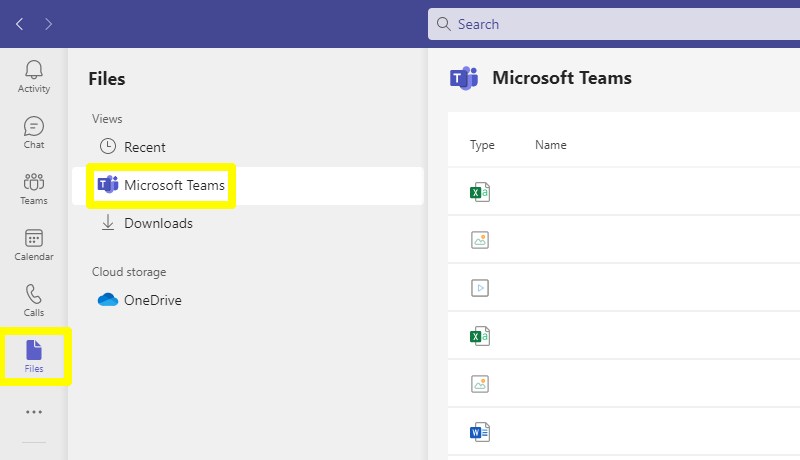 Find Shared Files: Office.com
Another option for accessing previously shared files is to log into your account at Office.com.
Aside from the browser versions of various M365 apps, you'll also find an overview of files under My Content. Here, you can filter shared documents by people or meetings. Files listed in this summary include email attachments or data shared via other apps.
Find Shared Files: OneDrive Web App
Finally, you can access cloud documents by logging into web interface of OneDrive: Here you can see lists of both items Shared with you and Shared by you, either via direct messaging in Teams or by granting access directly in OneDrive.
Additionally, there is a search feature available to help you narrow down the list.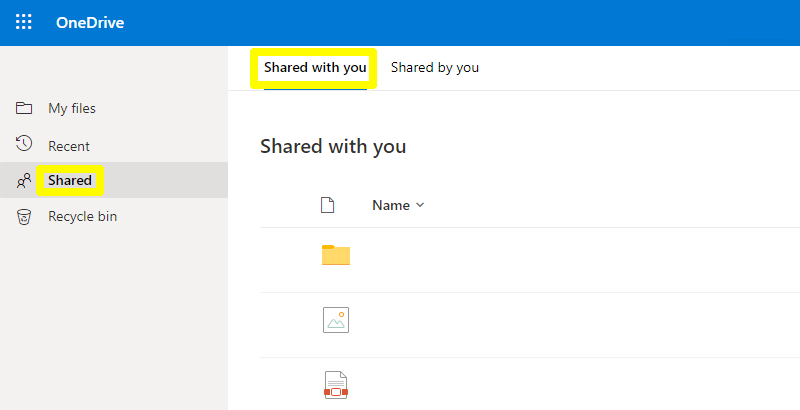 MS Teams Shared Files: Overview For Admins
As you can see, there are various ways for an individual user to figure out which files they have access to and which files they have shared with others. But when it comes to the bigger picture of keeping track of shared files across an entire organization, MS 365 unfortunately offers no built-in tools that could help admins stay on top of shares.
By default, the only way for admins to check what information is being shared either with other employees or with people outside the company, is to go through each user and file individually. The platform does not offer a file-sharing overview that allows the IT department to easily check who is sharing what with who.
Risks of Microsoft Teams File Sharing
The biggest advantage of Microsoft Teams is also one of its main weaknesses: By allowing users to freely share documents with others or even invite guest users, the chat platform makes it incredibly difficult for businesses and organizations to restrict access to sensitive information or ensure proper documentation.
The risks posed by file sharing in MS Teams are particularly noteworthy given its use as a platform for outward communication, with many companies relying on the cloud service for meetings with clients or business partners. Once a file has been shared with external users, it often remains accessible to them long past its intended use, with the owners of the data completely unaware of the problem.
This lack of transparency and oversight makes it impossible to follow best practices of cybersecurity such as the Least Privilege Access or Zero Trust Architecture. Without a way to keep track of shared files, businesses are left wide open to employee data theft, insider threats or costly privacy violations.
Keep Track of Share Permissions with IAM
Do you want to use Microsoft 365 without losing control of file sharing? No problem! As an all-in-one solution for access management, tenfold offers full integration with Microsoft services, including support for local networks, Microsoft 365 and third-party applications!
Thanks to tenfold's detailed reporting, it only takes admins seconds to see which files are being shared in which teams and which of them are accessible to outside users. The tenfold Dashboard even highlights potential issues, such as guest users with active licenses.
Learn more about tenfold's full range of features by watching our video demo. Ready to make the jump? Sign up for a free trial to see how easy access management can be with the right tool!